Anish Kapoor CBE RA (born 12 March 1954) is a British sculptor of Indian birth. Born in Mumbai (Bombay), Kapoor has lived and worked in London since the early 1970s when he moved to study art, first at the Hornsey College of Artand later at the Chelsea School of Art and Design.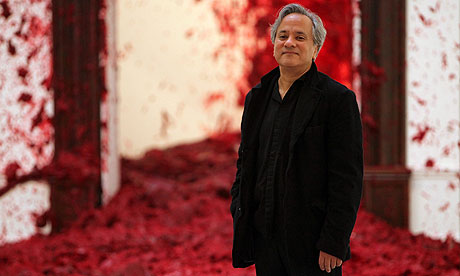 He initially began exhibiting as part of New British Sculpture art scene. He went on to exhibit internationally at venues such as the Tate Gallery and Hayward Gallery in London, Kunsthalle Basel, Haus der Kunst Munich, Deutsche Guggenheim in Berlin, Reina Sofia in Madrid, MAK Vienna, and the ICA Boston. He represented Britain in the XLIV Venice Biennale
in 1990, when he was awarded the Premio Duemila Prize. In 1991 he received the Turner Prize. Notable public sculptures include Cloud Gate, Millennium Park, Chicago, and Sky Mirror at the Rockefeller Center, New York.
Anish Kapoor is a Royal Academician and was made a Commander of the British Empire in 2003. He is also a Distinguished supporter of the British Humanist Association.
Early life
Kapoor was raised in an Indian home. His mother was a Jewish immigrant from Baghdad. "My mother was then only a few months old. She had an Indian-Jewish upbringing. Her father, my grandfather, was the cantor in the synagogue inPune. At the time, the Jewish community in Mumbai was quite large, mostly consisting of Baghdadi Jews." His father, from a Punjabi family, was a hydrographer in the Indian Navy.
Kapoor spent his early years in India, first in Mumbai, and then in Dehra Dun at the Doon School. During 1971-1973, he went to Israel with one of his two brothers. He first stayed in a kibbutz, and then studied electrical engineering. He then left for Britain where he attended Hornsey College of Art and Chelsea School of Art and Design.
He achieved widespread recognition when he represented Britain at the 1990 Venice Biennale.
Works
Kapoor's pieces are frequently simple, curved forms, usually monochromatic and brightly coloured. His early pieces rely on powder pigment to cover the works and the floor around them. Such use of pigment characterised his first high profile exhibit as part of the New Sculpture exhibition at the Hayward Gallery London in 1978. This practice was inspired by the mounds of brightly coloured pigment in the markets and temples of India.[citation needed] His later works are made of solid, quarried stone, many of which have carved apertures and cavities, often alluding to, and playing with, dualities (earth-sky, matter-spirit, lightness-darkness, visible-invisible, conscious-unconscious, male-female and body-mind). His most recent works are mirror-like, reflecting or distorting the viewer and surroundings. The use of red wax is also part of his current repertoire, evocative of flesh, blood and transfiguration.
Kapoor has produced a number of large works, including Taratantara (1999), a 35 metre-tall piece installed in the Baltic Flour Mills in Gateshead, England before renovation began there and Marsyas (2002), a large work of steel and flesh-coloured PVC that reached end to end of the 3,400-square-foot (320 m2) Turbine Hall of Tate Modern. A stone arch by Kapoor is permanently placed at the shore of a lake in Lødingen in northern Norway. In 2000, one of Kapoor's works, Parabolic Waters, consisting of rapidly rotating coloured water, was shown outside the Millennium Dome in London. In 2001, Sky Mirror, a large mirror piece that reflects the sky and surroundings, was commissioned for a site outside the Nottingham Playhouse. Since 2006, Cloud Gate, a 110-ton stainless steel sculpture with a mirror finish, has been permanently installed in Millennium Park in Chicago. Viewers are able to walk beneath the sculpture and look up into an omphalos or navel above them. In the autumn of 2006, a second Sky Mirror, was installed in Rockefeller Center, New York. Soon to be completed are a memorial to the British victims of 9/11 in New York, and the design and construction of two subway stations in Naples. Kapoor has also been commissioned to produce five pieces of public art by Tees Valley Regeneration (TVR) collectively known as the "Tees Valley Giants"
In 2007, he showed Svayambh (which can be roughly translated as 'self-generated'), a 1.5 metre carved block of red wax that moved on rails through the Nantes Musée des Beaux-Arts as part of the Biennale estuaire; this piece was shown again in a major show at the Haus Der Kunst in Munich and in 2009 at the Royal Academy in London. Kapoor's recent work increasingly blurs the boundaries between architecture and art.
In 2008, the Institute of Contemporary Art in Boston exhibited Kapoor's first U.S. mid-career survey.[12] In the same year, Kapoor created the sculpture "Memory" in Berlin and New York for theGuggenheim Foundation.
In 2009 Anish Kapoor became the first Guest Artistic Director of Brighton Festival. As well as informing the content of the festival as a whole, Kapoor installed 4 significant sculptures for the duration of the festival; Sky Mirror at Brighton Pavilion gardens, C-Curve at The Chattri, Blood Relations (a collaboration with author Salman Rushdie) and 1000 Names, both at Fabrica. He also created 2 new works: a large site-specific work entitled 'The Dismemberment of Jeanne d'Arc' and a performance based installation entitled 'Imagined Monochrome'. The public response was so overwhelming that police had to re-divert traffic around C Curve at the Chattri and exercise crowd control.
In 2009, Anish Kapoor, Carsten Höller and Giuseppe Penone were asked to create three "permanent, site-specific works in harmony with the light and colors" of Pollino National Park, the largest national park in Italy, as the first edition of project ArtePollino – Another South. Kapoor's work, Cinema di Terra (Earth Cinema), in the thermally active spa area of Latronico, is a 45m long, 3m wide and 7m deep cut into the landscape made from concrete and earth. People can enter from both sides and walk along it until they reach a small square from where they can see the landscape from within.Cinema di Terra officially opened to public in September 2009.
In 2010 a new Anish Kapoor sculpture called "Turning the World Upside Down, Jerusalem" was commissioned and installed at the Israel Museum in Jerusalem. The sculpture is described as a "16-foot tall polished-steel hourglass" and it "reflects and reverses the Jerusalem sky and the museum's landscape, a likely reference to the city's duality of celestial and earthly, holy and profane."
Kapoor also designed the ArcelorMittal Orbit, a 115 metre spiral sculpture of the Olympic rings. Planned to be built in time for the 2012 Olympic Games in London, the piece will be the largest example of public art in the UK when completed.
In November 2010, Kapoor retrospective exhibitions were held at the National Gallery of Modern Art (NGMA) in New Delhi and Mumbai's Mehboob Studio, the first showcase of his work in the country of his birth.
When asked if engagement with people and places is the key to successful public art, Kapoor said,
" I'm thinking about the mythical wonders of the world, the Hanging Gardens of Babylon and the Tower of Babel. It's as if the collective will comes up with something that has resonance on an individual level and so becomes mythic. I can claim to take that as a model for a way of thinking. Art can do it, and I'm going to have a damn good go. I want to occupy the territory, but the territory is an idea and a way of thinking as much as a context that generates objects. "
His work is collected worldwide, notably by the Museum of Modern Art in New York, the Tate Modern in London, Fondazione Prada in Milan, the Guggenheim in Bilbao, the De Pont Foundation in Tilburg, Netherlands, and the 21st Century Museum of Contemporary Art in Kanazawa, Japan.
Kapoor's gallery representations include the Lisson Gallery, London and the Gladstone Gallery, New York.
Awards
Kapoor represented Britain at the Venice Biennale, 1990, where he was awarded the Premio Duemila. The following year, he won the prestigious Turner Prize.
Solo exhibitions of his work have been held in the Tate, Royal Academy and Hayward Gallery in London, Kunsthalle Basel in Switzerland, Reina Sofia in Madrid, the National Gallery in Ottawa, Musee des arts contemporains (Grand-Hornu) in Belgium, the CAPC Museum of Contemporary Art in Bordeaux, the Centro Cultural Banco do Brasil in Brazil, and the Guggenheim in Bilbao and New York. His work is collected worldwide, notably by the Museum of Modern Art in New York, the Tate Modern in London, Fondazione Prada in Milan, the Guggenheim inBilbao, the De Pont Foundation in the Netherlands and the 21st Century Museum of Contemporary Art in Kanazawa, Japan.
Market Analysis
Record at Auction
Untitled 1999
Sculpture, carved alabaster
35.00 in. (88.90 cm.) (height) by 65.00 in. (165.10 cm.) (width)
$ 2,841,000 USD
Sotheby's, New York (November 14, 2007)
Contemporary Art – Evening (Sale N08363)